How to Use Social Media with OOH Advertising for Tangible Outcomes
Out-of-home advertising (OOH) can deliver a highly engaging experience that helps build brand awareness and appeal to your target audience. Whether it is an immersive activation, a visually stunning creative or a prominent placement, social sharing can help OOH campaigns go beyond their physical location. Brand exposure and reach can then be elevated to millions of people, especially with the prevalence of smartphones and mass usage of social channels.
An example of extensive reach is the Maya Moore "Wings" effort from Brand Jordan, which was reflective of Maya's impact on Minneapolis and more broadly on women's sports. The 2-day placement received substantial media coverage and went beyond the local community to generate PR and social buzz from all over the nation.
Keep It Simple & Recognizable
People often only have seconds to take in your message, so keep the creativity succinct. For example, a Winter 2021 campaign from McDonald's became a hit on social media. It was simple and contextual, while the golden arch was instantly recognizable. The creative elements blended into the environment without being overly promotional.
Consider Context and Add Interactivity
Context plays a vital role in ad exposure and how the message is received. Two of the most effective ways to utilize context in OOH advertising is through precise audience targeting and interactivity/experiential.
Audience targeting allows your OOH campaign to deeply resonate with your target audience and increases the chance of social sharing. It can strengthen brand affinity and compel consumers to be more invested in the brand and/or product.
Interactivity and experiential activations can also be highly targeted but have an additional impact that generates more widespread social sharing. One example is Old Spice's campaign for the opening of a branded barbershop in Columbus, OH. A giant head and truck was constructed and driven around Columbus as part of a photoshoot, capturing the attention of the city.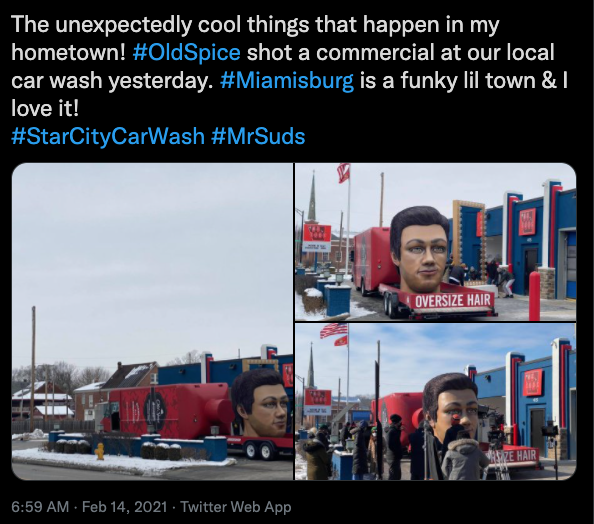 Be Accessible
Ensure your social strategy is up to date with consistent branding across all social channels and your website. Make it easy for those who get curious about your brand to find you online, so you can create a synergistic relationship between online and offline channels. Ideally, you want your social media to match the quality of the OOH campaign, reflecting the overall quality of the product/service.
Spark a Conversation
Take your campaign further than just driving traffic to your online channels through meaningful engagement with your followers. Create thoughtful captions that are on point with either humor, relatability, and/or creativity. Pose relevant questions and invite followers to engage through comments or shares. An additional opportunity is to create a hashtag and make it the focal point of your campaign.
Become Part of the Solution
Insert your message into the audience's life and solve a problem for them. The #OracleFreeRides campaign — which offered free rides to attendees at tech conferences — raised awareness among a highly targeted audience while providing them an easy and free transportation solution.
Track Your Results
Pairing OOH campaigns with social media provides ample opportunity to track every step of the consumer journey so you can see what works and what doesn't to improve your results. When you use an OOH platform powered by data science, you can leverage data and metrics to refine your targeting and drive high-quality traffic to your online properties.
Working with an OOH specialist can streamline the process of planning strategic placements, generating ideas for interactivity/experiential campaigns, attaining high quality photos for posting on social media and tracking results.
Reach out to Billups and get started on your next memorable moment.