How iOS Privacy Updates Affect OOH Data Attribution
Released by Apple in April 2021, iOS 14.5 caused quite a stir in the advertising industry. It requires app developers to ask for users' permission before tracking their activities and collecting third-party data that'd allow advertisers to deliver personalized ads and measure results.
While many marketers are still grappling with the new rules around ID for advertisers (IDFA) opt-in, Apple announced the release of iOS 15 with updated privacy features at the Worldwide Developers Conference (WWDC) held on June 7, 2021. iOS 15 is already available for download as a public beta and will launch in Fall 2021.
As the line between online and offline marketing blurs, smartphone usage has enhanced advertisers' ability to engage consumers through out-of-home (OOH) advertising. Mobile technologies help advertisers interact with their audiences, collect consumer data, and leverage attribution to gain insights that inform targeting.
The new iOS security updates substantially impact advertisers' ability to deliver targeted content and understand user behaviors through data attribution. Here's what you need to know about the changes.
What's in the Latest iOS Security Updates?
According to Apple, the iOS privacy updates expand the company's commitment to privacy and encourage change across the industry. New features include Mail Privacy Protection, App Privacy Report, on-device audio processing with Siri, and enhanced privacy with iCloud+.
In particular, App Privacy Report now has the most impact on advertisers that use third-party data. The feature allows users to find out how often each app has accessed their location, photos, camera, microphone, and contacts. They can find out how their data is shared and change the permission at any time.
Since advertisers can't get insights on the behaviors of the 80% of consumers who have opted out of tracking, many users will likely get less personalized and potentially irrelevant ads when they use the web.
Source: Apple
How Will iOS Security Updates Affect OOH Advertising?
In general, the iOS 15 updates will impact how advertisers deliver personalized promotions and content to consumers, measure and track conversions from online customers, and allocate budgets for future campaigns based on user behaviors.
While the iOS security updates won't affect static or traditional OOH campaigns, they'll impact digital OOH ads that depend on device interactions (e.g., QR codes). Measurement and attribution using mobile ID will also be affected.
Advertisers will see data gaps because a high percentage of users are expected to opt-out of tracking. The data collected will be less reliable and less representative of the entire target market — for example, users who opt-in to tracking are most likely to trust the brand already. As a result, the confidence in ROI campaign reports will decrease.
The challenges with data attribution will also impact how advertisers connect OOH campaigns with paid ads (e.g., Google and Facebook Ads) to augment campaigns through retargeting. The reduction in conversion visibility may affect your bidding strategy. The data gap may lower your ability to target individuals based on their behaviors or interactions with your OOH ads.
Meanwhile, Google will address privacy concerns around data collection by eliminating third-party cookies in Chrome by 2022. It's also working on alternative solutions to enable targeting in a less intrusive way. For example, by allowing advertisers to target audience segments based on common interest instead of using individual identifiers.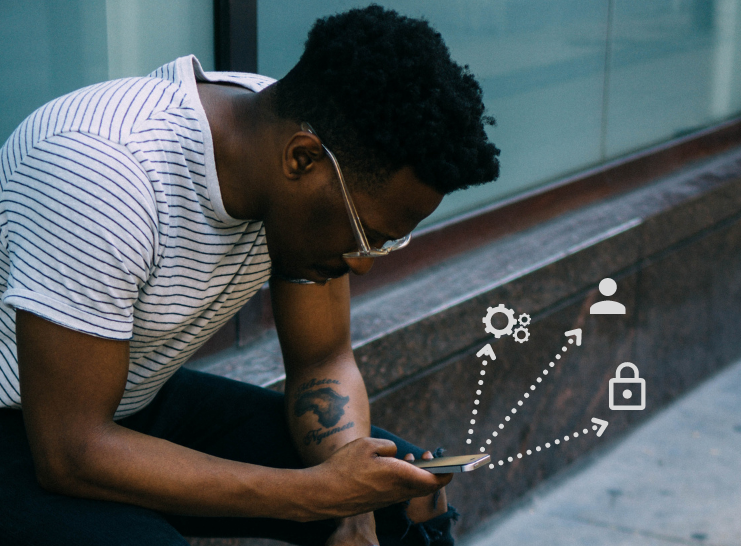 How to Overcome Challenges in OOH Data Attribution Caused by iOS Security Updates
Attribution in OOH advertising refers to the process of identifying consumers who have been exposed to OOH ads and what actions they took online or offline as a result of the exposure. Advertisers can measure exposure, location or website visitation, brand awareness, sales, audience profile, and placement indexing from the data.
Here are some strategies to overcome the challenges associated with the latest iOS security updates:
Embrace Privacy Preservation Methodologies
Most platforms will follow Apple's lead to introduce new privacy protections for consumers. Brands should think ahead and implement advertising technologies that align with the underlying principles of these changes.
Invest in new infrastructure and innovative technologies to adapt to current changes and future-proof your strategies against new restraints on measurement and analytics. This can help you gain a competitive advantage over brands that are slow to adapt.
Ditch the Short-Term Workarounds
It may be tempting to preserve your current workflows and measurement schemas by exploiting loopholes and creating workarounds. However, they will merely delay the inevitable or even get you into trouble.
Examples of long-term solutions include using security tokens to encrypt and anonymize user information and adjusting your revenue model so it's less dependent on individual data from third-party sources. But instead, they'll rely on first-party data and a statistical approach to drive sales.
Implement a Holistic Macro-Level Model
Transition your measurement methods from deterministic, user-centric models to one that considers all variations in your ad spend and revenue over a longer term. For instance, consider the lifetime value of a user instead of sales within a narrow conversion window (e.g., 7 days).
You'll need data-science expertise and the ability to leverage a sophisticated statistical approach, which is more robust and durable than a solution that relies on individual identities. For example, marketing mix models (MMMs) aggregate advertising and sales data observed over time and allow brands to include television and OOH in the media mix for measurement.
Use Cohort Matching
In marketing and advertising, a cohort refers to a group of people who share specific experiences, events, interests, or other factors. Cohort matching identifies and targets audience segments that can be treated as a single group.
While cohort matching is limited in its ability to deliver a hyper-personalized experience, it allows you to reach a broader audience with a reasonable level of effectiveness. Google has already introduced its Federated Learning of Cohorts (FLoC) process that builds ad audiences based on web browsing behaviors without logging personal information.
Stay Ahead of iOS Security Updates
Using the right technologies can help you track the effectiveness of your OOH campaigns using data from various sources without relying heavily on IDFA. The advanced reporting and attribution features on our OOH platform allow advertisers to quantify insights on exposure, foot traffic, web traffic, creative effectiveness, and audience demographics. In addition to creating a holistic picture of their audiences, advertisers can increase the effectiveness of their campaign targeting, placement, and messaging in order to achieve the highest ROI.
With our dedicated data science team, Billups will help you navigate the emerging challenges of our current climate through detailed campaign measurement and results. To learn about how you can add more dimension, context, and ROI to your OOH reach out here.